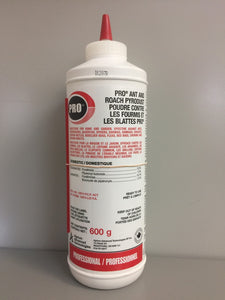 Poulin's Pest Control
Pro Ant And Roach Pyrodust Powder
Regular price
$19.99
Sale price
$25.98
Pyro Dust is a finely ground dust which contains pyrethrin. It can be used indoors and outdoors. The easy squeeze bottle comes with a crack and crevice applicator tip that allows the dust to be applied in hard to reach spaces.
Read the label before using. Pyro Dust also provides a low toxicity solution for the control of insects and the fight against bed bugs. The main purpose of this dust to use it where the dust will not be disturbed. Once the insect is coated in the dust, it will die shortly thereafter.
Effective against ants, cockroaches, silverfish, spiders, earwigs, sowbugs, crickets, certain beetles, boxelder bugs, fleas, bed bugs, leaf hoppers, exposed thrips and aphids, and chewing and sucking insects.
Please note: All online purchases are treated as a final sale. No returns, refunds, or exchanges will be available. Current pricing is valid for online purchases only; in-store pricing may vary depending on retail store location.
---
Share this Product
---
More from this collection