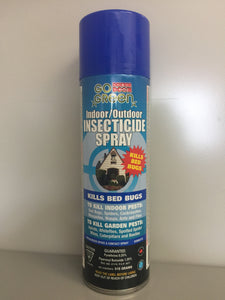 Poulin's Pest Control
Doktor Doom Go Green Indoor/Outdoor Insecticide Spray
Regular price
$20.99
Sale price
$251.88
Doktor Doom Go Green Indoor/Outdoor Insecticide Spray is a pyrethrin-based spray that kills indoor pests such as Bed Bugs, Spiders, Cockroaches, Mosquitoes, Wasps, Hornets, Ants and Flies. It kills outdoor pests such as Aphids, Whiteflies, Spotted Spider Mites, Caterpillars, Tent Caterpillars, Cankerworms, Webworms, and Beetles.
Read the label before using. This product has a valve that sprays in all directions, even upside down for hard to reach areas. May be used indoors or outdoors for flying or crawling insects and plant pests. Kills on contact.
Please note: All online purchases are treated as a final sale. No returns, refunds, or exchanges will be available. Current pricing is valid for online purchases only; in-store pricing may vary depending on retail store location.
---
Share this Product
---
More from this collection