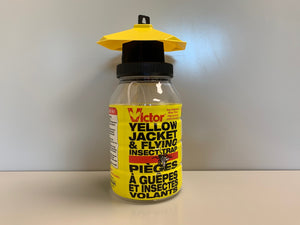 Poulin's Pest Control
Victor Wasp Trap
Regular price
$10.99
$0.00
Control yellow jackets, flies, and fruit flies with the Victor Yellow Jacket Flying Insect Trap. Protect your picnics, camping outings, and cookouts with this easy-to-use and reusable insect trap.
The Victor Yellow Jacket and Flying Insect Trap is a great alternative to hazardous sprays and aerosols. Can sit or be hung, and uses natural food product as bait.
Please note: All online purchases are treated as a final sale. No returns, refunds, or exchanges will be available. Current pricing is valid for online purchases only; in-store pricing may vary depending on retail store location.

---
Share this Product
---
More from this collection